Real Estate Agency Spain
Fuerteventura, La Gomera, Las Palmas, Gran Canarias, Lanzarote, Tenerife, Canary Islands, Spain, îles Maurice, Réunion, Egypte, Maroc, Italy, New Caledonia, Vanuatu, France, Guadeloup, Martinique, Jamaica.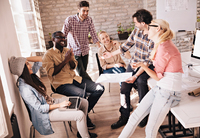 CREST PLAZA RESIDENCE ISTANBUL
While the reduction in demand and a downward trend in house prices have been observed all over Europe, according to TurkStat statistics the number of apartment units sold in Istanbul for 2014 grew to 222,748 of the total sales for Turkey of 1,165,381, a 19.3% share of the country's total marketplace. December's sales show a 16.3% increase over previous period.
The entry of global actors into the real estate market is increasing the competitiveness of the sector, while massive mergers and acquisitions taking place help its expansion and overall growth rates. Different surveys and publications such as the "Emerging Trends in Real Estate Europe", prepared jointly by PricewaterhouseCoopers (PWC) and the Urban Land Institute (ULI), show how global and local interest in the market has increased. According to the 2013 publication of the report, Istanbul is ranked as the most attractive investment market in Europe in the "Existing Property Performance", "New Property Acquisitions", and "Development Prospects" categories, followed by Munich, Warsaw, Berlin, and Stockholm. Meanwhile, Turkey ranks as the 3rd most attractive real estate investment destination among the emerging countries in 2013, according to a survey conducted by the Association of Foreign Investors in Real Estate (AFIRE).
As Turkey progresses along the road to EU membership, the essential legislative reforms introduced have made investing in the real estate market even easier and more profitable. The amendments to the Land Registry Law, the Mortgage Law, and the redrafting of tax laws are also designed to improve the competitiveness of the Turkey property market. Investors should be encourage to see the bigger picture, to have a holistic approach: according to Knight Frank's Wealth Report 2015, Istanbul's position in the world's hottest luxury property market is 3rd.
Below you will find an interesting opportunity you would never want to miss:
Crest Plaza Residence Istanbul
TYPICAL PRICING 1+1 apt unit no 14 89m² brut Prices Start from 256,000TL / $90,000 / £60,000 / €86,000 2+1 apt unit no 38 122m² brut Prices Start from 371,000TL /$131,000 / £87,000 /€124,000 2+1 apt unit no 03 149m² brut Prices Start from 421,000TL /$148,000 / £98,000 /€141,000 3+2 apt unit no 107 242m² brut Prices Start from 606,000TL /$213,000 /£141,000 /€202,000
PAYMENT TERMS Reservation fee First payment on contract 50% of Sales Price Second Payment on title transfer 50% of Sales Price or 24 equal monthly instalments of balance. If payment plan is selected than full title deeds can be transferred to
Client , subject to payment of a charge fee is made in favour of the developer and paid for by client. Price includes a full furniture and electrical pack. All costs include VAT.
TYPICAL NET RENTAL RETURNS 1+1 apt unit no 14 89m² brut 1300tl per month 6.0% net yield. 2+1 apt unit no 38 122m² brut 1550tl per month 5.5% net yield. 2+1 apt unit no 03 149m² brut 1600tl per month 4.9% net yield. How your NET Yield is calculated Estimate based on an example one bedroom property price of $90000 Less furniture pack $6000 Net property Price $84000 Monthly rent: 1300tl Gross annual income (TRY€): 1300*12(mths) = 15600tl Gross Annual income (USD$): 15600/2.80 (rate) = $5571 Rental Management charge 10% plus VAT: $657 Net income: $4914 Net Yield (approx.): 6% Conservative Price ($) Capital appreciation (%) Rental yield (%) Rental income (TRY) Total appreciation: $96,624 Total rent: $29,989 Total return: $126,613 ROI = 140% over 5 years If the property is kept for over 5 years than there is no Capital Gains Tax.
FACILITIES: SWIMMING, POOL, HAMAN, SAUNA,
STEAM ROOM, GYM & HEALTH CLUB
CHILDREN'S PLAY AREA, LANDSCAPED GARDENS
CINEMA, SHOPS, MOSQUE, CAFÉ/RESTAURANT
MEETING ROOMS, 24 h. SECURITY
For further information or for other similar projects, please contact us.
ISTANBUL: INVEST IN ONE OF THE MOST FASCINATING CITIES!
ISTANBUL has been voted as the world's best investment city for the third year running by most property experts. With a GDP of over 5%, a tourist market of over 12 million visitors, and a stable economy that grows from strength to strength, ratings agencies have been quick to upgrade Turkey to investment status or above. With prices being driven up by demand and rental yields of 7% - 10% this is why the smart money is moving here from investors from all over the world. One of the key issues driving the Istanbul real estate market is the severe housing shortage, some 500,000 properties in Turkey will be needed by 2017, 250,000 of which will be needed in Istanbul.
therefore the time and energy required. The difference between a successful Agent and all the others, however, lies exactly in this ability to "cultivate" the decision of the customer: this decision is actually of considerable importance for the customer, both from the economic point of view and the emotional one. Let us remember that the "house" is one of the primary needs of man as described by Maslow (1954).
Its purchase, (even if it has the purpose of investment), is therefore never detached from the symbolic significance of strong emotional connotations. For this reason, patience and perseverance are required in order to follow the process of maturation and make "hot" a "cold" customer. This same patience and perseverance will lead to the exponential growth of your results as real estate Agents. Do not rush, then, and you will triple your results!
Angelo Cinel CEO of Wire Consulting
The Turkey property market, offering evergreater chances for investors every year, has come to prominence especially in the last decade. Although with the recent economic crisis and the globaleconomic recession the European and US real estate markets have been negatively affected, the real estate market in Turkey is still promising.